Lip Lights Deluxe Mini Lip Collection
Image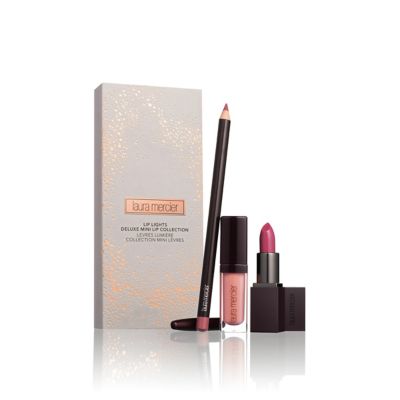 Zoom
Laura Mercier
Lip Lights Deluxe Mini Lip Collection
A limited edition lip collection featuring our cult favorites Lip Glace, Lip Colour, and Lip Pencil. ($53 value)
Read more
Details
/holiday/lip-lights-deluxe-mini-lip-collection-12704615.html
Overview
Luxe.
Vibrant.
Sensorial.
Luxe.
Vibrant.
Sensorial.
Details
Details
Light up your lips with this collection of lip essentials. With complementary shades of Velour Lovers Lip Colour, Lip Glacé and Lip Pencil, this trio includes everything you need to create the perfect pout.
Set includes:
Velour Lovers Lip Colour in Coquette: 2.75g/0.09OZ.
Lip Glacé in Bare Pink: 2.8g/0.1OZ.
Lip Pencil in Plumberry: 1.49g/0.05OZ
A value of $53.
Usage
Usage
Lip Glace: Using the wand applicator, glide product all over lips. Apply a light layer for sheer coverage or layer for more intensity.
Lip Colour: Press the bullet to the lips using even pressure. Press lips together to refresh the colour. For added definition, use Lip Pencil before or after Lip Colour application.
Lip Pencil: Sharpen Lip Pencil to a point and line the outside of lips prior to Lip Colour application. Fill in lips if desired.
Recommendations