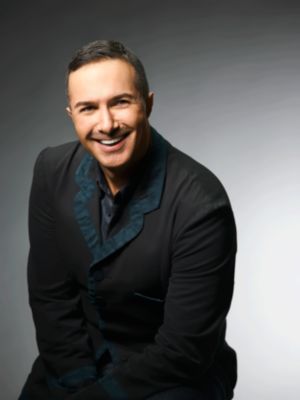 Matin
We are pleased to announce that Matin Maulawizada has been named the Global Brand Ambassador for Laura Mercier. In this new role, Matin will work closely with Ms. Mercier on every aspect of business, from development of Colour and Skincare to working with the media on all launches and on-air appearances. He will be instrumental in helping keep the focus on "The Flawless Face" and ensuring that the brand is conveying a clear and consistent message. Matin is very familiar with the Laura Mercier as he was the first National Makeup Artist when the brand launched 14 years ago.  He also worked closely with Laura on product development.
Matin has an amazing global background and an advanced education, both which blend perfectly into the Laura Mercier brand. He is a native of Afghanistan, and has a Master's Degree in Molecular Biology. Matin worked part-time as a Makeup Artist throughout college, but then graduated and became a Research Scientist. But the world of beauty was his true calling, and he soon returned to the work that he loved.   
Since making the transition from Scientist to Makeup Artist, Matin has established an impressive personal client list of celebrities, including Angelina Jolie, Gwyneth Paltrow, Maggie Gyllenhall, Jennifer Connelly, Cynthia Nixon, Claire Danes, Liv Tyler, Rachel Weisz, and many others.  He has been featured in the beauty pages of leading fashion magazines such as Harper's Bazaar and Allure and his work has graced the covers of Elle, Italian Vogue, Amaan (a French, subversive avant-garde of international luxury magazine), Marie Claire and Nylon.
As Global Brand Ambassador for Laura Mercier, Matin will play a key role in evaluating and providing feedback on products in development and recommending shade ranges and colour trends.  He will liaise with Beauty Editors at PR Events, attend and do makeup for key beauty shoots, and be a prominent figure at all Laura Mercier Sales Meetings. His responsibilities also include serving as the "Online Makeup Expert" at Lauramercier.com (and other viral and alternate channels.) 
On the creative side, Matin will provide input and/or approval of magazine print ads and advertorials, and also be featured in an upcoming advertising shoot for "backstage access" to play in VNR and/or Online. Matin will be available for on-air appearances as needed (e.g., QVC, Oprah, Ellen), and will be available for any and all print, video, social media, radio, TV interviews and blogs.
On a personal note, Matin resides in New York City, and in his spare time, he enjoys practicing Calligraphy, studying Islamic and Gothic architecture and shopping for exotic ethnic textiles.
Welcome Back Matin!